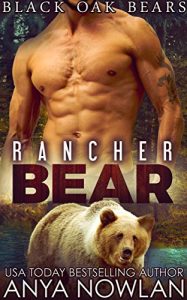 Steam/Violence Level: (Ranked from 1 to 5, as noted by the author): Steam Level 4
Addison Lark knows enough about trouble to see it coming from a mile away. When the curvy lawyer's law firm gets tangled in a publicly messy case and her boss asks her to get out of town with him for a while, she knows it's the right choice. But what she wasn't prepared for was that she might just find a man on this trip who would never ask her to run or hide…
Gage Atherton is a werebear with enough on his mind. The impromptu arrival of his estranged brother at his ranch does nothing but sour his mood and clutter his plans. The only thing keeping him from showing his no good brother the gate is the woman with him, the kind of woman he just can't seem to say no to. While old wounds get ripped open again, Gage can't help but wonder if he's finally met his match… and if he's capable of holding onto her.
Have you read this book or another by this author? Tell us about it in the comments!
All information in this post was provided by the author and is not altered. We do this so that you the reader can decide to buy a book based on what the author says and how they present themselves and their book.