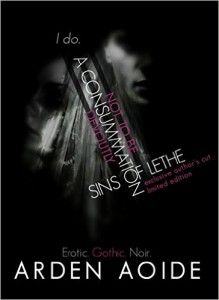 Steam:: Steam Level 5
Exclusive Author's Edition; Contains the first two books (A Consummation and Devoutly) of Sins of Lethe, along with the prequel Not to Be, for a limited time.
170+ 5-star reviews and ratings across multiple platforms.
~
From the womb, you are owned. You are signed away before your first breath. You are called beautiful. Like it means something important. Like it would get you a kind husband. Or one less cruel.
As much as you try to model perfect obedience, your mother looks less happy as you grow. She has secrets. She keeps them with her. You forget what she looked like when she was happy.
But you remember why she's not there for your wedding, and you will do anything to honor her memory.
Anything.
But first acts of rebellion open doors that are best left closed.
Until him. Until he walked through your door. Your savior.
But how can you truly love when you only know obedience?
If you enjoy epic love stories that shine a light in perpetual darkness, don't miss this romantic thriller.
Get A Consummation at Amazon
Get A Consummation at Barnes and Noble
What format is this book in? eBook, Print Book
Have you read this book or another by this author? Tell us about it in the comments!