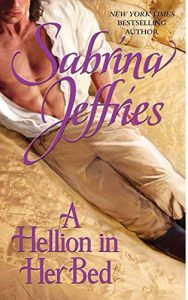 Steam: Steam Level 4
Furious at his grandmother's ultimatum to marry or lose his inheritance, Lord Jarret Sharpe wagers his luck—and his heart—at the card table against a most unlikely opponent.
Mired in scandal after his parents' mysterious deaths, notorious gambler Lord Jarret Sharpe agrees to tamely run the family brewery for a year if his Machiavellian grandmother rescinds her ultimatum that he marry. But the gambler in him can't resist when beguiling Annabel Lake proposes a wager. If she wins their card game, he must help save her family's foundering brewery. But if he wins, she must spend a night in his bed. The outcome sets off a chain of events that threatens to destroy all his plans . . . and unveils the secret Annabel has held for so long. When Jarret discovers the darker reason behind her wager, he forces her into another one—and this time he intends to win not just her body, but her heart.
Get A Hellion in Her Bed (The Hellions of Halstead Hall Book 2) by Sabrina Jeffries at Amazon
Get Audiobook
Have you read this book or another by this author? Tell us about it in the comments!