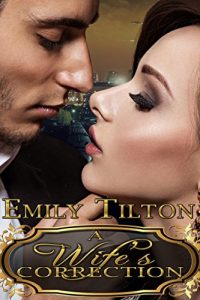 Steam: Steam Level 5
After an abrupt change in the planet Harmonia's government, laws are put into place which alarm twenty-eight-year-old attorney Martha Allen Ames. From now on, every husband will have the right and the responsibility to correct his wife when her behavior warrants it and to teach her to surrender herself to him completely in the marital bed.
Though Martha holds out hope that her own husband, Ben, will not be too strict in his application of the new laws, he proves more than ready to apply the strap and the paddle to her bare backside when she fails to obey him. But she quickly discovers that an occasional sore bottom is far from all that Ben has planned for her, and soon Martha is both blushing crimson and begging for more as her husband takes her hard and thoroughly, enjoying her in ways he never has before.
Despite her shame and defiance, Ben's mastery of her body leaves Martha burning with passion, and his dominance increases with each passing day. But even as her desire for her husband catches fire, the couple must prepare to demonstrate Martha's newfound obedience and submission to convince a skeptical government that she has been well and truly corrected.
Publisher's Note: A Wife's Correction is the eighth book of the Beyond the Institute: The Future of Correction series. The books of the Beyond the Institute: The Future of Correction series are stand-alone novels which can be read in any order. A Wife's Correction includes spankings and sexual scenes. If such material offends you, please don't buy this book.
Get A Wife's Correction (Beyond the Institute: The Future of Correction Book 8) Kindle Edition by Emily Tilton at Amazon
Get Audiobook
Have you read this book or another by this author? Tell us about it in the comments!