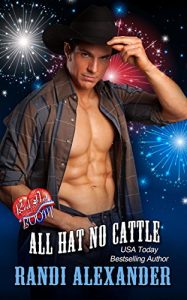 Steam: Steam Level 4
It's Independence Day, and Harper Johansen is at the rodeo in South Dakota on business. While she's deep in cowboy territory, she's hoping to meet a real cowboy—one who shares her dreams for the future. Shaw Donahue, tall and sexy in his cowboy hat, jeans, and boots, could be that man, and Harper quickly falls for his seductive charm. Until he tells her he's a roughneck.
Shaw can't believe his luck. Harper is an accomplished, intelligent businesswoman, and she's beautiful, sexy, and willing. Until she learns he's working the local oil field. Before he can explain the reason he's roughnecking, she pushes him away, telling him they can only be friends. He doesn't fit into her plans. With four days of rodeo ahead of them, can Shaw convince Harper to value a man for more than his cattle?
Break out the fireworks and get ready to kick off your summer with this HOT new collection of stories. All Hat No Cattle is part of the Red Hot and BOOM! multi-author series (stands alone for reading enjoyment)
Get All Hat No Cattle: A Red Hot and BOOM! Story (All Cowboy Series Book 1) by Randi Alexander, Red Hot and BOOM! at Amazon
Have you read this book or another by this author? Tell us about it in the comments!