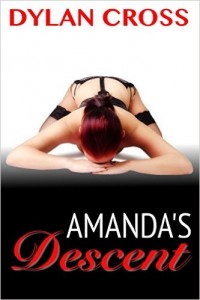 Steam:: Steam Level 5
When her husband goes out of town on business, bored housewife Amanda decides to "get her flirt on" with the cable guy, treating him to a morning of uninhibited, full-figured fun. But the repairman's service call is immediately followed by a visit from her husband's friend, Craig—who confronts Amanda about her indiscretion.
In exchange for Craig's silence, Amanda reluctantly agrees to give him an encore performance. But it quickly becomes obvious that he has no intention of letting the curvy redhead off the hook so easily. He makes one demand, then another, and Amanda has no choice but to comply. Before she realizes it, the young housewife finds herself descending into a world of exhibitionism, humiliation, bondage and submission…
Get Amanda's Descent at Amazon
Get Amanda's Descent at Barnes and Noble
What format is this book in? eBook
Have you read this book or another by this author? Tell us about it in the comments!