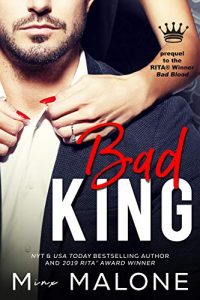 Steam: Steam Level 5
Book 1 to the 2019 RITA® Winner BAD BLOOD
Who Wants to Marry a Billionaire?
Resumes accepted here.
Must be completely inappropriate.
My parents just put a gold digger's target on my back.
They want me married and they're willing to play hardball by threatening the company I've put my blood, sweat and tears into.
But I'm a Kingsley. And no one knows how to play the game like I do. If all they want is a wedding, I'll find the fiancée of their nightmares. Too loud, too blonde and ready for a good time.
Let the games begin.…
Get Bad King (Bad Business Book 1) by M. Malone at Amazon
Have you read this book or another by this author? Tell us about it in the comments!