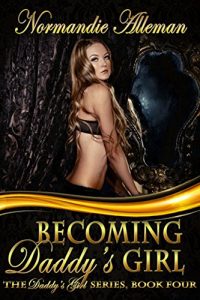 Steam: Steam Level 5
When Kimberly's boss, Charles, deploys to Iraq before she can admit that she's fallen in love with him, she intends to do her best to let him go and move on with her life, but everything changes after Charles suffers a near-fatal injury and comes home temporarily to recuperate.
Wounded or not, Charles isn't going to let a girl like Kimberly slip through his fingers, and he doesn't hesitate to let her know how he feels. She responds beautifully to his dominant lovemaking, and her willingness to submit to him only increases his desire for her. But when duty sends Charles back overseas, will it tear them apart or can Kimberly's love for her daddy withstand the storms of war until he comes home and she can be his little girl again?
Publisher's Note: Becoming Daddy's Girl is a stand-alone prequel set in the world of the Daddy's Girl series, and it incorporates characters from the first three books in the series, Daddy Morebucks, Daddy's Game, and Poor Little Daddy's Girl. It is an erotic romance novel that includes spankings, sexual scenes, elements of BDSM, and more. If such material offends you, please don't buy this book.
Get Becoming Daddy's Girl (The Daddy's Girl Series Book 4) by Normandie Alleman at Amazon
Have you read this book or another by this author? Tell us about it in the comments!