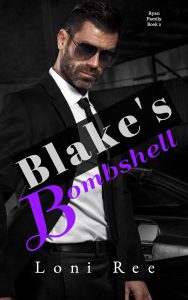 Steam Level: Steam Level 4
Category: Contemporary
About Blake's Bombshell:
"In the back of my mind, a thought whispers through – surely, after the week I've had, fate wouldn't be that cruel to me. Would it?" Famous last words. -Lucy Steele
All Lucy Steele wants is one night out to drink and forget the train wreck happening in her life. A hot stranger promises to distract her from her troubles, and she takes him up on his offer. But one spectacular night turns her entire life upside down when her mystery lover turns out to be a close associate of her family. To avoid more drama, Lucy runs from her new lover and tries to put the night behind her while she works on improving her life.
Blake David can't believe the gorgeous woman he let flee is his best friend's niece. When he can't forget Lucy, he decides to pursue her, but a misunderstanding causes him to walk away.
Blake and Lucy soon realize their powerful feelings aren't temporary, but while they have been fighting their feelings for each other, fate has stepped in and changed the game.
Fate drops a bombshell on Blake that changes everything but is it too late to mend fences with Lucy?
This is the story of Blake David and Lucy Steele. They are characters introduced in Lukas' Angel (Ryan Family Book 1). Each book in the series is a standalone and you do not have to read the first book in order to understand this book but it will enhance your enjoyment.
Purchase Print Books
Buy Blake's Bombshell Print Edition at Amazon
Links to Purchase eBooks
Link To Buy Blake's Bombshell On Amazon

Disclaimer: All information for this book was submitted by the author and is presented as is so you get to know the author and their style. Prices are subject to change.