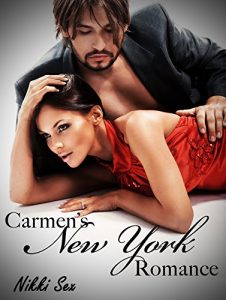 Steam: Steam Level 5
Kurt Nielsen—dominant, wealthy and New York's most eligible bachelor.
Carmen Wilson—a woman who has lost everything and is on the run for her life.
A chance meeting brings them together in a blaze of sensual heat.
Unfortunately for Kurt, Carmen runs again. Now he's turning the city upside down, but he's not the only one looking for her. Two Federal Agents and her violent ex-boyfriend also want to get their hands on Carmen.
Carmen is convinced her secrets will make Kurt despise her. With the help of the clever French therapist, André Chevalier, will she learn to love and trust again?
Warning: Kinky sex scenes, ménage, profanity, and handsome heroes who are great in bed.
Get Carmen's New York Romance Trilogy by Nikki Sex at Amazon
Get Audiobook
Have you read this book or another by this author? Tell us about it in the comments!