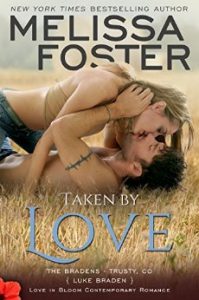 Targeted Age Group:
Steam/Violence Level: (Ranked from 1 to 5, as noted by the author): Steam Level 4
Taken By Love is a USA TODAY Bestseller, and is currently FREE on Amazon!
Daisy Honey fled Trusty, Colorado, after years of battling rumors sparked by her gorgeous looks and lust-inducing name. Now a physician on the brink of a promising career, she reluctantly returns home when her father is injured in a farming accident. Daisy expects the small-town girls who hurt her in the past to take cheap shots again – but she's completely unprepared for a run-in with tall, dark, and wickedly sexy Luke Braden, the only man who has ever stood up for her – and the man she's never forgotten.
Luke Braden is handsome, wealthy, and the best damn gypsy horse breeder in the Midwest. After a restless youth, he's finally ready to settle down – only connecting with women is nothing like connecting with horses, and he's never met a woman worth the energy. After an arrest in a neighboring town, Luke's past comes back to haunt him, and he realizes that his inability to find love runs deeper than he ever imagined.
A chance encounter sweeps Luke and Daisy into a world of passion. For the first time ever, Luke feels a connection, but Daisy's life in Trusty is anything but permanent, and Luke can't manage a future until he puts his past to rest.
Taken by Love is part of the Love in Bloom series. While it can be heard as a stand-alone novel, for even more enjoyment, you may want to listen to the entire Love in Bloom series in order. Characters from each sub-series appear in future books.
Get Taken By Love (The Bradens at Trusty Book 1) at Amazon
Get Taken By Love (The Bradens at Trusty Book 1) at Audible
Have you read this book or another by this author? Tell us about it in the comments!
All information in this post was provided by the author and is not altered. We do this so that you the reader can decide to buy a book based on what the author says and how they present themselves and their book.