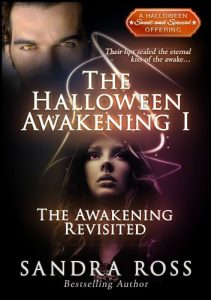 Steam: Steam Level 4
From the Publisher that brought you popular short story series Witching Call, Hostile Hearts, Earthbound Angels, The January Morrison Files Psychic Series, Eve Snow Psychic P.I. Series, Ralph's Gift, Tropical Storms, Friend Zone. And now, there's A Halloween Awakening…
To be awakened is to remember… forever.
CAN A PASSION FROM CENTURIES PAST FIND ITS HOME IN THE PRESENT?
His golden eyes mesmerize… how could a stranger like Lucien invoke so much desire in her?
Chandler is a beautiful woman who was staid, sensible, and in control–before she met hypnotically stunning and incredibly magnetic Lucien. She's just recovered from a break-up, so that could be the reason why she ignites into a blazing inferno when his hands touch her skin. His kisses brand her, and every time she refuses him, it leaves her painfully frustrated. How can this happen? Is it even real?
And someone's watching her… she feels it. She is sure of it. But who? And what about her incredible dreams about a faceless man she feels passionate love for but cannot remember? Things are happening to Chandler that she can't explain. And in Lucien's arms, she is fast becoming someone she doesn't know.
Or someone she can't remember? It is as if she is being awakened from the slumber of a powerful curse. It is as if he is making her remember.
Can she dare believe?
If you wish to read more, download now!
READER ADVISORY:This story contains content that some readers may find objectionable, including sex and erotic themes.
Get The Awakening Revisited (A Halloween Awakening Book 1) by Sandra Ross at Amazon
Have you read this book or another by this author? Tell us about it in the comments!