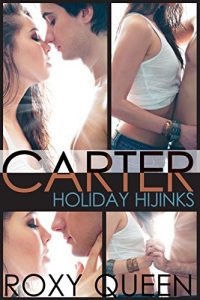 Steam: Steam Level 5
Santa, secrets and sex. Those are the three things that make up Ruthie's holiday plans.Well, minus the sex.
Ruthie's conservative parents would never approve of her nine-year age difference with her boyfriend, Carter, or understand their relationship is based primarily on sex, fun and more sex. This Christmas 19-year-old Carter needs a home for the holiday, so they hatch a plan to trick her family. This means a moratorium on sex while they're in her parent's house, which would work if these two could ever keep their hands off one another or if they could come to an agreement on exactly what this relationship means to each of them. Is it sex or love? Maybe a little of both?
Roxy Queen offers up a fun, sexy companion novella to the Taboo series for the holidays. For mature readers. 18+
Get Holiday Hijinks (Carter Book 2): Taboo by Roxy Queen at Amazon
Have you read this book or another by this author? Tell us about it in the comments!