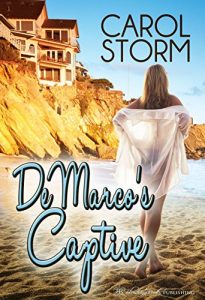 Steam: Steam Level 5
She went undercover to bring him down – only to become a slave to his red-hot discipline!
American Agent Lucy Harrison was determined to expose the growing drug trade on the lush tropical island of San Cristobal. When a blown sting operation puts her life at risk, the blonde beauty goes undercover as Lucky Harris, a spoiled Miami socialite looking to hook a rich husband. Washing ashore on the private estate of the reclusive Sebastian DeMarco gives her the perfect excuse to expose the darkly handsome billionaire's secret connection to the drug cartel!
Cynical Sebastian sees right through the sexy blonde's disguise. But instead of turning Lucky over to the authorities, he decides to discipline her himself. Before long the wild party girl is responding like a true submissive, giving more and more of herself over to his sensual domination. Under his hard hand, wild Lucky soon becomes ladylike Lucy, a fun-loving but serious and caring girl who teaches him to love and trust once more.
Lucy never meant to fall in love with her target, or reveal her true identity. But as the days of passion stretch into weeks of bliss, it becomes harder and harder to think of Sebastian as just another assignment. And when his heroic attempts to defy the drug cartel put his life in danger, the American agent is forced to make a desperate choice that could shatter their love forever.
Get DeMarco's Captive (Island Getaway Book 1) by Carol Storm at Amazon
Have you read this book or another by this author? Tell us about it in the comments!