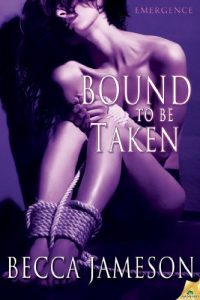 Steam: Steam Level 5
She's theirs for a weekend. Will they be hers for a lifetime?
Emergence, Book 1
Stephanie Parkins doesn't date—ever.
After years of watching her mother's antics, men are off her menu. But the truth is, now she needs one, and fast. Proving she's approachable is the only way her bosses will promote her to a position that requires her to work directly with the public.
Restaurateurs Aiden Collins and Dane Whitman need a date—now.
They're perfectly happy as a twosome, but without a woman on their arms, admission to this weekend's fetish party will be denied. For a while now they've had their eye on the sexy beauty from the tenth floor—even though she buries herself under a frumpy wardrobe. What better time to bring her out of her shell, and add the third they've been craving?
When the three quite literally collide in the elevator, a miracle happens: she agrees to their proposal. And Stephanie turns out to be the submissive of Dane and Aiden's dreams. But as she slips deeper under their thumbs, she could be more than either man bargains for.
Warning: This book contains intense bondage scenes between two Doms and their sub. Expect hot masturbation, man on man action, blow jobs, restraints, ben wa balls, nipple clamps, and mind-blowing orgasm denial that will make you weep…
Get Bound to be Taken (Emergence Book 1) by Becca Jameson at Amazon
Have you read this book or another by this author? Tell us about it in the comments!