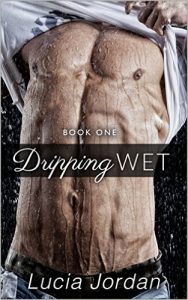 Steam:: Steam Level 5
Dripping Wet is the hottest new contemporary romance from bestselling author Lucia Jordan!
When Amy Hemsworth's hot water in her home doesn't seem to be working she, desperate as she is, seeks the help of a mover who she spots across the street working in her neighborhood. After he leaves her home that morning, Amy assumes she'll never see him again—this man who has sent her into a fit of desire.
Christopher Meade has spent the entire day thinking about the gorgeous woman who sought his help that morning only to capture his attention and to turn his mind to lust and desire. So enamored was he by everything about her that he didn't even bother to correct her when she assumed he was a mover. But when Chris sees Amy arrive home that night will he come clean to her about who he really is? Or will Chris take a chance, when the evening takes an unlikely turn toward the bedroom, on Amy being okay with his dominant brand of reality?
What format is this book in? eBook
Have you read this book or another by this author? Tell us about it in the comments!