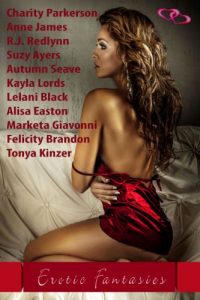 Steam: Steam Level 5
Step into the pages of several short stories that are sure to whet your appetite and stir your imagination. All things are possible within the dark corners of our mind where fantasies take shape just for our own entertainment. Eleven different stories will take your mind on an erotic journey and arouse your deepest desires. Your body and mind will tingle with delight and your toes will curl as you find that you lose yourself in every story. The authors hope you enjoy their stories and visit their websites where you can learn about the rest of their books.
Get Erotic Fantasies by Suzy Ayers, Lelani Black, Felicity Brandon, Alisa Easton, Marketa Giavonni, Anne James, Kayla Lords, Charity Parkerson, RJ Redlynn, Tonya Kinzer at Amazon
Have you read this book or another by this author? Tell us about it in the comments!