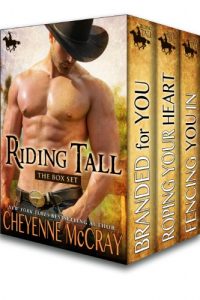 Steam: Steam Level 4
Branded For You
Megan doesn't think there's a man who could love her just the way she is. But when she meets sexy Ryan McBride, everything changes. After learning that her family is in danger of losing their restaurant and home, Megan is shocked to learn that Ryan is responsible for the threats of foreclosure. Can Ryan and Megan succeed in overcoming their obstacles and fight for a love that was meant to be?
Roping Your Heart
With a heart filled with memories of the love she left behind, Cat returns to Arizona. Despite a changed appearance due to a tragic accident, Blake recognizes Cat with his heart, a heart that never stopped loving her. During a bitter legal battle, Blake stands to lose custody of his daughter. Can Blake fight for his daughter and keep the woman he loves or will shattering events tear them apart?
Fencing You In
Tess doesn't do playboy cowboys and that's what she thinks Gage McBride is. That's the farthest thing from the truth–Gage just hasn't been able to settle down since the woman he loved betrayed him. When Gage starts to win Tess's heart, they both find themselves in danger from a man from Gage's past who's out for revenge. Gage must save Tess while at the same time trying to stay alive.
Get Riding Tall the First Box Set (Riding Tall box set Book 1) by Cheyenne McCray at Amazon
Have you read this book or another by this author? Tell us about it in the comments!