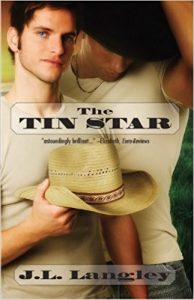 Steam: Steam Level 5
Genre: LGBT Contemporary Western
James Killian learns the hard way that smaller towns are full of bigots. When he comes out to his father he is not only kicked out of his home but off the Quadruple J where he works as the ranch foreman. With nowhere to go and little money, his savior comes in the unlikely form of his older brother's best friend, the man he's been in love with for over half his life.
Ethan Whitehall is a successful rancher and a well-respected man in his community. His ranch the Tin Star has been in Ethan's family for generations and affords him a certain prestige and power in the small town he calls home. Ethan knows without a doubt that all of that could shatter if his sexual orientation were to ever become public. But when he learns his best friend's younger brother's banishment and the reasons behind it, Ethan can't help but get involved. He's always had a soft spot where Jamie Killian was concerned, and it may very well be his downfall.
Get The Tin Star by J. L. Langley at Amazon
Have you read this book or another by this author? Tell us about it in the comments!