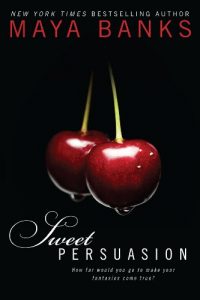 Steam: Steam Level 5
FROM NEW YORK TIMES BESTSELLING AUTHOR OF THE BREATHLESS TRILOGY MAYA BANKS
The man of her dreams would give the orders. For him, she had two words that satisfied them both…"Take me."
For five years, Serena has run Fantasy Incorporated and has devoted her time to fulfilling her clients' fantasies. Never her own. Until now…
Her most secret desire is to give ownership of her body to a man. Someone who will command her, pleasure her, and have complete authority over her. So she seeks out Damon Roche, owner of an exclusive sex club and a man strong enough to make her do anything he wants. Anything.
Together they'll journey into a world she's only dreamed of. She's given the opportunity to immerse herself in a different life while her normal one waits for her to return whenever she wishes. Damon has no desire to let her go, however. Serena is the woman he's long searched for, and it's up to him to convince her to stay when the game is all over with. He wants their fantasy to become their reality and for Serena to remain his pampered, cherished submissive.
Get Sweet Persuasion (Sweet Series Book 2) by Maya Banks at Amazon
Get Audiobook
Have you read this book or another by this author? Tell us about it in the comments!