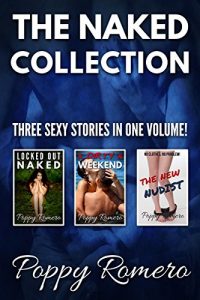 Steam: Steam Level 5
Three steamy stories in one volume!
Locked Out Naked
Things just can't seem to get any worse for poor Carly. A night alone in the bath with some nice wine and a naughty book was all she wanted. Now she's somehow found herself locked out of her house, naked and trying to hide from her own neighbours!
Chased from her garden by the curiosity of her neighbours, Carly's public nudity leads her through the park and into the exhibitionist adventure of a lifetime! Can she manage to get back home without getting caught? Or will she give in to her growing feeling that maybe she wants to be caught?
Carly soon realises things are not as they seem once the lights go down, caught at last by her neighbours as her story reaches its explosive conclusion!
Dirty Weekend
A newly awakened exhibitionist meets her master in Dan, a strong, silent type with a kind heart and tender touch. But with the end of term approaching, can their newly inflamed passions survive their time apart? Amidst a barrage of steamy messages, the lovers find the perfect solution: One torrid weekend of no holds barred exploration and erotic thrills!
But as she finds herself pushed harder by Dan, their escapades take them further and further into the public eye. With the raunchy consequences of their public displays revealed, will they continue their journey of exploration? Will Dan be able to think up a punishment kinky enough for his new slave? And more importantly… will she be able to resist?
Dirty Weekend is one woman's memoir of a long, hot summer – and the man who set it alight!
The New Nudist
Sexy couple Sean and Poppy are in the market for a little extra – a little extra cash, that is! And when the perfect housemate drops into their laps, it seems like all their problems have been answered. There's just one problem – she's a nudist!
Can Poppy trust Sean with this new temptation around the house? And more importantly… can Sean trust Poppy? One sexy young couple are about to get schooled in the sexier side of naked life, leading to an explosive finale and an unusual birthday treat!
Get The NAKED Collection by Poppy Romero at Amazon
Have you read this book or another by this author? Tell us about it in the comments!