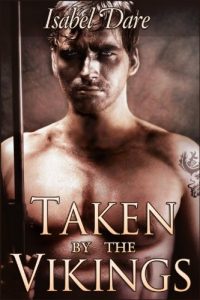 Steam: Steam Level 5
Desperate to protect his village, young Edric rams his small fishing boat into a Viking ship, and ends up captured by the Viking raiders.
When Viking leader Thorvald puts a thrall collar around Edric's neck, Edric offers to pleasure the huge Viking in exchange for his freedom. But the other Vikings demand their share of their new thrall, and soon Edric finds himself on his knees, servicing the entire crew in a vicious Viking free-for-all…
Mature readers only! This 8.000 word story contains a rough gay encounter between an inexperienced young man and a boatload of horny Vikings. All characters are 18 or older.
Get Taken by the Vikings by Isabel Dare at Amazon
Have you read this book or another by this author? Tell us about it in the comments!