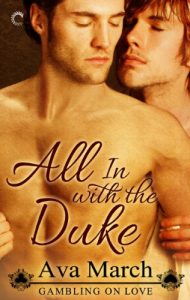 Steam: Steam Level 5
The gambling hells of Regency London are full of vices, but for some men, the greatest gamble of all is finding love.
London, 1822
Max Arrington, the Duke of Pelham, vows to never again let a handsome face blind him to a man's true intentions. But ten months of celibacy and lonely nights drive him to a decadent brothel, where a beautiful young man arouses his illicit passions as never before.
Tristan Walsh has grown tired of being used for men's pleasure. But his latest client is different: commanding yet generous, Max makes him feel cared for as well as wanted. Yet Tristan knows he'll never have the choice to leave the brothel and submit only to Max.
So when Max invites him to be his guest at his country estate, Tristan eagerly agrees to his terms—days to do as he pleases while Max tends to the dukedom, and nights spent together in wicked play. But when the "business arrangement" begins to deepen into something more, Tristan must face the fact that he has no true place in Max's life—or in Max's guarded heart…
Get All In with the Duke (Gambling on Love Book 1) by Ava March at Amazon
Get Audiobook
Have you read this book or another by this author? Tell us about it in the comments!