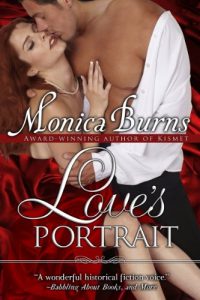 Steam: Steam Level 4
Julia Westgard commissioned a scandalous portrait of herself to regain her self-worth after years of a loveless, repressive marriage to her late husband. But the private portrait puts her directly in the path of Morgan St. Claire, one of the Marlborough Set's most notorious seducers. A man who fires her blood, threatens her control, and ignites a passion she thought dead. In short, he's a man who doesn't take no for an answer.
From the moment Morgan sees Julia's portrait, he's determined to make her another conquest. But the woman he meets is a far cry from the image on canvas. What begins as a simple exercise in passion and seduction quickly evolves into a quest to reveal the true Julia. With each sensual, erotic encounter, he employs every weapon of seduction at his disposal in hopes of making Julia see she really is the woman in Love's Portrait.
WARNING: An alpha hero finds his heart captured by a woman who doesn't want marriage. And a strong heroine with a need for independence who isn't afraid to give way when her heart is involved.
Get Love's Portrait by Monica Burns at Amazon
Have you read this book or another by this author? Tell us about it in the comments!