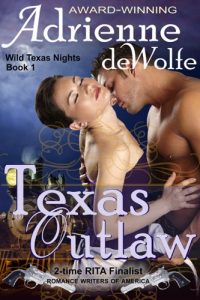 Steam: Steam Level 4
Fancy Holleday has more nerve than the average cardsharp. No man can resist her smoky voice and violet eyes—and that includes the federal tinstar, Cord Rawlins.
Cord may have tracked her all the way to Texas to recover the U.S. minting plates that she stole, but the Nevada penitentiary is a long ride north, giving her plenty of time to charm, seduce, or just plain outsmart the handsome Texas lawman.
Deputy U.S. Marshal Cord Rawlins is sworn to bring renegades to justice—including the brazen lady train robber who turned the tables on him near Carson City.
Tracking Fancy down is Cord's job, but resisting her persistent persuasions is a matter of personal honor. With Fancy's life in his hands, Cord begins to wonder if his clever prisoner is really as shameless as she pretends. Could her wicked smile be hiding a desperate secret—one that can steal his heart?
Get Texas Outlaw (Wild Texas Nights, Book 1) by Adrienne deWolfe at Amazon
Have you read this book or another by this author? Tell us about it in the comments!