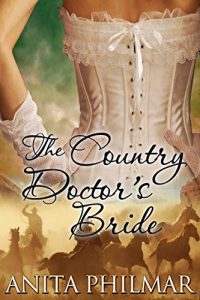 Steam: Steam Level 5
Sixth book in the Naked Bluff, Texas series
Hot stories set in 1860 Texas
The Country Doctor's Bride
With no ties to Texas, Dixy secures a ride to the next town on her way out of the state. The driver, Tobias Poe offers to let her rest. While she's in the back, he is shot.
Rushing to save him, she arrives in Naked Bluff, Texas.
The town's doctor, Nathaniel Murphy can't save him, but he can save her?
Penniless, alone, and now a murder suspect, Dixy has no alternative but to accept his help. Can this couple build a future together?
Or will a killer silence her forever?
Read more about the cowboys
from Naked Bluff, Texas in this western historical series. These Kindle short reads have hot HEAs about cowboys who are searching for their Texas brides. Set in a small town, this old west series reveals some interesting tidbits about Texas.
Get The Country Doctor's Bride (The Cowboys of Naked Bluff, Texas series Book 6) by Anita Philmar at Amazon
Have you read this book or another by this author? Tell us about it in the comments!