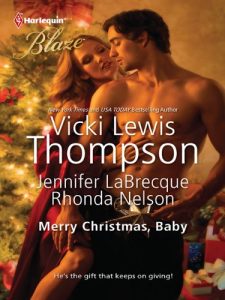 Steam: Steam Level 4
Who will you find under your Christmas tree?
A cowboy?
Ranch hand Tucker Rankin isn't crazy about the holidays…until a wintry night before Christmas, when Lacey Evans shows him how much fun it is to be nestled all snug in her bed….
A wealthy New Yorker?
Stockbroker Jared Martin needs to get away, and Alaska's the perfect place to unwind. Especially once actress Theodora "Teddy" Monroe gets him to loosen his tie—and take it all off!
Or maybe even a man in uniform?
Soldier Silas Davenport is on Christmas leave. But when he arrives at his parents' home, no one is there…except for the irresistible Delphie Moreau. And she's one gift he won't be exchanging!
Get Merry Christmas, Baby: It's Christmas, Cowboy!\Northern Fantasy\He'll Be Home for Christmas (Sons of Chance Series) Kindle Edition by Vicki Lewis Thompson, Jennifer LaBrecque, Rhonda Nelson at Amazon
Have you read this book or another by this author? Tell us about it in the comments!