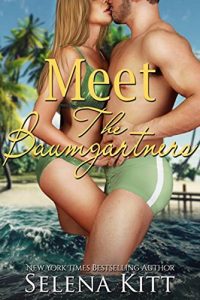 Steam: Steam Level 5
TOP 100 BAUMGARTNER SERIES – Meet the Baumgartners – THEY WILL ROCK YOUR WORLD!
———
FROM NEW YORK TIMES BESTSELLING & AWARD WINNING AUTHOR SELENA KITT
———
Steve "Doc" Baumgartner–alone, naked, face flushed with pleasure.
Carrie spies him indulging in a sexy, private moment. Though she's sworn to herself she's through with guys, and her roommate-turned-lover Maureen is more than enough to satisfy her, Carrie can't stop fantasizing about Doc.
Then Carrie gets her chance. A summer getaway to Key West, the threat of Maureen's zealot boyfriend, and Doc's hunger for pleasure prove to be the perfect cocktail to lower Carrie's inhibitions.
Smell the ocean air, pour yourself a drink, prepare for a summer to remember. It's time to Meet the Baumgartners!
**If you've read one of the books in the Baumgartners series, you'll love this prequel to the series. If you've never read any of them–Meet the Baumgartners! Your life will never be the same again!**
Get Meet The Baumgartners by Selena Kitt at Amazon
Have you read this book or another by this author? Tell us about it in the comments!