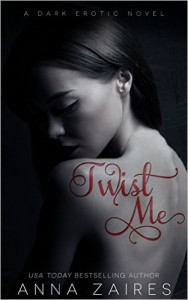 Steam:: Steam Level 4
It will be free.
Book 1 in the New York Times and USA Today Bestselling Dark Romance Trilogy
Kidnapped. Taken to a private island.
I never thought this could happen to me. I never imagined one chance meeting on the eve of my eighteenth birthday could change my life so completely.
Now I belong to him. To Julian. To a man who is as ruthless as he is beautiful—a man whose touch makes me burn. A man whose tenderness I find more devastating than his cruelty.
My captor is an enigma. I don't know who he is or why he took me. There is a darkness inside him—a darkness that scares me even as it draws me in.
My name is Nora Leston, and this is my story.
***Note: This is book 1 of a completed trilogy. Keep Me and Hold Me are now available everywhere. No cliffhanger.***
Get Twist Me by Anna Zaires at Amazon
Get Twist Me by Anna Zaires at Barnes and Noble
Get Audiobook
What format is this book in? eBook, Print Book, Audiobook
Have you read this book or another by this author? Tell us about it in the comments!