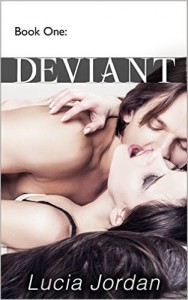 Steam:: Steam Level 5
This is the first book of the 'Deviant' Series, a seriously hot and provocative romance by Lucia Jordan, written in her signature style of high passion with searing depictions of sex and emotion.
When Angela Jacobson takes up a job as personal assistant to one of the youngest and best lawyers in town, she gets much more than she bargained for. Her new boss, Tanner Jacobson, is a savage lawyer, unbelievably good looking, and he's offering to take Angela on as his protégé. Will Angela be able to handle all the pressures of her new job? Her boss is terrifying, aggressive, and sexy as hell. And what will Tanner think of his new protégée Angela? As late nights working together offer sinful temptation, will Tanner be able to limit his guidance to the legal sphere? Or will his mastery of her extend to the bedroom, where carnal pleasures await?
This ebook contains very hot and explicit descriptions of romantic activity. Only mature readers should download this book.
What format is this book in? eBook
Have you read this book or another by this author? Tell us about it in the comments!