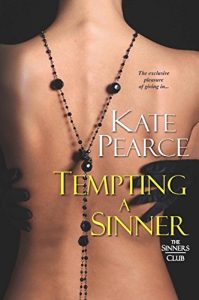 Steam: Steam Level 4
Known only to a select few, these inscrutable men are bound by dangerous desires and enigmatic pasts. They are the Sinners Club. . .
Cold Calculation
Within the circles of British intelligence, Benedict, Lord Keyes, is known for his cold brilliance and strict military demeanor. Yet this icy exterior masks a man of smoldering passion and scorching sexuality who will do anything to keep his past a secret. . .
Sultry Satisfaction
Miss Malinda Keyes refuses to be intimidated by Lord Keyes. In fact, she enjoys a good battle, especially one of erotic wiles and carnal cunning. Determined to expose his lordship's past, she will use every wanton weapon in her arsenal to tease and tempt this sinner into the ultimate sensual surrender. . .
Get Tempting a Sinner (The Sinners Club Book 2) by Kate Pearce at Amazon
Have you read this book or another by this author? Tell us about it in the comments!