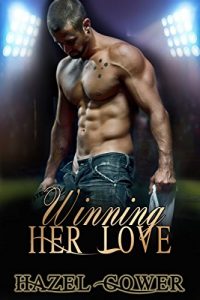 Steam: Steam Level 4
Can love survive when surprises are revealed?
Chad Douglas has been in love with his younger sister's best friend for years, but he's kept his distance—their age difference, his rising rugby career, and uncertainty standing in his way. However, a drunken night together allows Chad to believe that maybe there is a chance, only for everything to come crumbling down when he wakes to find Lana gone.
After living in England for the past three years, Lana Cage moves back home to Australia. The night before she left Australia for England is a blank memory, but on her arrival home, the consequences end up being a surprise for both her and Chad.
Desperate for another chance at love, can Chad and Lana have their happily ever after once the surprise is revealed? Or will trust be lost and their lives forever changed?
Content Warning: this book contains one tough rugby player who knows exactly what he wants and is determined to get it
Get Winning Her Love by Hazel Gower at Amazon
Have you read this book or another by this author? Tell us about it in the comments!