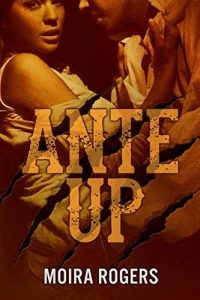 Steam: Steam Level 5
Thomas Crawford is Lonely River's Beta, and it's high time he settled down. He's had his eye on Charlotte Daniel, the owner of the Full Moon Saloon–and independent cuss of a woman–for months, but she either hasn't noticed his gentle courting… or she's ignoring him. But when some local wolves lodge a complaint about her questionable business practices it's Thomas' job to investigate, even if it means the woman he wants will hate him forever.
Lottie has noticed Thomas' courting, all right, but it's a little too polite for her tastes. She wants a man with fire and sensuality, not daisies and poetry. Then he kisses her. Once she gets a glimpse of the passion burning in him, Lottie decides a slow, careful seduction isn't a bad idea at all. But she'll do it her way.
Get Ante Up (Down & Dirty #3) by Moira Rogers at Amazon
Have you read this book or another by this author? Tell us about it in the comments!