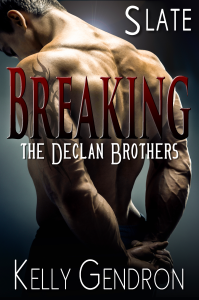 Targeted Age Group:
Steam/Violence Level: (Ranked from 1 to 5, as noted by the author): Steam Level 4
"Some boys will keep it, some will break it, and some boys, they just won't want it. You gotta be careful who you give your heart to…" Slate Declan
First loves, we all got them. Mine is Slate Declan. He was kind, gentle, and caring. Still, he managed to break my heart. So I put miles between us, and eventually, my heart healed.
I haven't seen Slate in years, but a couple friends and I are going back to the Bayou for the summer. While I'm visiting my hometown, I'm going to look up Slate Declan. And I plan to break his heart, just as he did mine. I'll remind him of what he has lost, and then I'll prove to him that I've moved on.
It should be real easy, right?
Well, let me tell you, Slate Declan is not the same guy that I left behind. And there's another problem. How do you break someone's heart when they no longer have one?
Get SLATE at Amazon
Get SLATE at Barnes and Noble
Have you read this book or another by this author? Tell us about it in the comments!
All information in this post was provided by the author and is not altered. We do this so that you the reader can decide to buy a book based on what the author says and how they present themselves and their book.