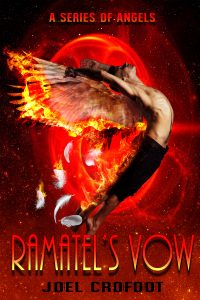 Targeted Age Group:
Steam/Violence Level: (Ranked from 1 to 5, as noted by the author): Steam Level 4
Seventy generations ago, the angel Ramatel was cast into hell for sleeping with human women. Now he has returned to earth, harboring a vendetta against God, only to find himself strapped with a beautiful young apprentice. How far will he go to carry a grudge?
Clara has been given a second chance to save her soul by working with her chauvinistic mentor who has antiquated ideas of gender roles. She bucks his authority at every chance, but how long can she hold out?
Have you read this book or another by this author? Tell us about it in the comments!
All information in this post was provided by the author and is not altered. We do this so that you the reader can decide to buy a book based on what the author says and how they present themselves and their book.