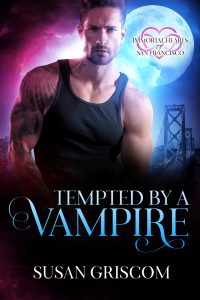 Tempted by a Vampire by Susan Griscom
Book is bargain priced from 09/01/2019 until
Steam Level : Steam Level 4
About Tempted by a Vampire
When your favorite rock star is a vampire …
Cian DeMarco is a talented musician—and a vampire. He's content living the single life in San Francisco, playing with his band at Club Royal each weekend…until he meets a human woman he can't resist. The scent of Magdalena's blood has him completely undone, and he begins to question his felicitous existence when his desire for her grows out of control.
Magdalena De la Rosa and her best friend recently moved to San Francisco. She's started a new job and is living in a gorgeous apartment. Everything is just the way she's imagined… until she ends up at an up-scale nightclub and is suddenly swept off her feet by the sexy as sin lead singer of the house band.
A temptation they can't resist leads to a future they never imagined as passion sizzles between the two until a threat from Cian's past returns to wreak havoc on their lives.
Will their love outweigh the reality of what Cian must do to keep Magdalena safe?
Revised with added content for a more enhanced reading experience.
Get Tempted by a Vampire to start this sexy adventure today!
Buy Book here Check book price before you buy, as prices can change due to expiration of the sale or other technical issues.
Is this book no longer priced under $2.99? Let us know in the comments! Have you read this book? Tell us about it in the comments!