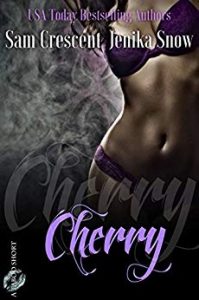 Steam: Steam Level 5
Sasha
I needed money. I have debts I didn't even know I had until it was too late. I've got nothing, no way out, but I do possess something of value … my virginity. Can I sell my virginity to the highest bidder?
But it's too late to back out. I've been bought and am on my way to his hotel room. I'll be his in any way he sees fit, because tonight, my body belongs to him.
Felix
I've never had a virgin before. But seeing Sasha on that stage with all those seedy bastards looking at her, I know what I want, the lengths I'll go to have her. I want her beneath me. I want inside her. Her cherry will be mine.
But once I have her, will once ever be enough?
READER NOTE: This story is SHORT, at roughly 10,000 words. If you don't enjoy quickies with insta-love, over the top alpha males that are possessive and obsessed over their women, this may not be for you. Although this is a quick read, it will have an ending that involves the H/h together and happy.
Get Cherry (A Taboo Short) by Jenika Snow, Sam Crescent at Amazon
Have you read this book or another by this author? Tell us about it in the comments!