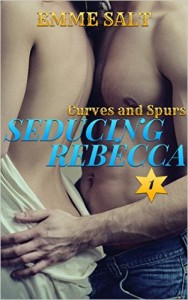 Steam:: Steam Level 5
Fort Charles has a reputation for sin. All her life Rebecca's heard the rumors that the cowboys there made a custom of sharing one woman between two men…and now she's about to find out the truth.
Abandoned by her fundamentalist Mormon father for refusing to marry her sister's husband, Rebecca has no choice but to work as a cook for ranch owner Carl Lawson and his fiery right-hand man Jamie Briggs.
Beautiful, voluptuous Rebecca is intent on preserving her virtue but can't seem to resist the pull of the rough, masculine duo…or the wicked traditions of Fort Charles.
* * *
The kiss was harder now. I could feel the hot length of his body, holding me in place.
"You're ready for it," he murmured. "Aren't you, Becky." His body pressed into mine. "Ready to be kissed…ready to be touched."
I gasped softly. "I–"
"God, aren't you ripe," he muttered into my ear. His lips skated over my jaw. "Not sure if I can wait like we planned to…I was never the patient one…"
* * *
Click on the cover to Look Inside for a red hot preview!
Get Curves and Spurs: Seducing Rebecca at Amazon
Get Curves and Spurs: Seducing Rebecca at Barnes and Noble
What format is this book in? eBook
Have you read this book or another by this author? Tell us about it in the comments!