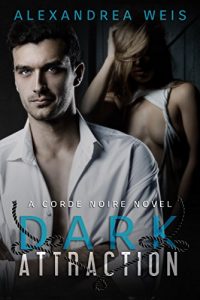 Steam: Steam Level 5
Sam Woods has a secret.
She keeps it hidden from the world … the world of the living, that is.
When Doug Morgan moves into her apartment building, Sam is intrigued by her sexy new neighbor. She struggles to keep her ghostly ability from him, but Doug isn't interested in her spiritual sense. He's after something much more … sensual.
A Dominant with dark tastes, Doug offers Sam a glimpse into his world. He invites her to take part in an experiment to explore the extremes of pleasure. Seduced by his lifestyle, Sam agrees. There's just one little catch … Doug also has a secret.
Someone Sam never saw coming.
Sometimes, the dark side of pleasure can turn deadly.
Get Dark Attraction: The Corde Noire Series Book 2 by Alexandrea Weis at Amazon
Have you read this book or another by this author? Tell us about it in the comments!