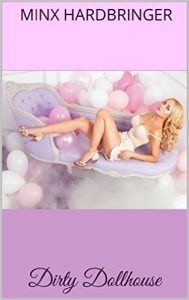 Steam:: Steam Level 5
This collection is full of stories about naughty men and women doing things that will make you blush.
What's included:
Ambrosia:
Henry's had his eye on Aimee for a while. She's just turned eighteen, and he's got plans. He's the man of the house, and he will be obeyed. Aimee is a brat and a completely spoiled princess who has taken advantage of his hospitality long enough. This weekend they'll have the house to themselves, and Henry plans on using the alone time with the inexperienced temptress to put her in her place. The tables are turned, however, when he finds himself captivated by her wicked ways.
Just One Night:
Jenna doesn't know what to expect when she's delivered to billionaire Cain Fallwell to serve him for the night. She's signed a contract giving him access to her in any way he chooses, and he intends to put her limits to the test. He's an over-the-top alpha male who doesn't expect to find himself instantly enchanted with the inexperienced beauty. Jenna will learn just how good it feels to submit completely, and Cain will become master of more than just her body.
Buying the Brat:
Geoff has been the man of the house taking care of his long-term girlfriend, Shelly, for years. Today he woke up and found out that she'd taken off and left her daughter, Storm, behind. It just so happens that Storm has recently turned eighteen, and he's not sure what he's supposed to do with the brat. She's only good for one thing to him, but it's going to cost him a fortune to get it. In the end, Storm will make it worth every penny.
Bonus stories included.
What format is this book in? eBook
Have you read this book or another by this author? Tell us about it in the comments!