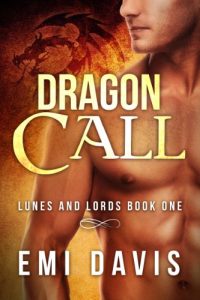 Steam: Steam Level 4
Dragon Call is the first of three 30,000-word (approx 120-page) installments of the Lunes & Lords mini-series. The story continues in Dragon Dance and concludes in Dragon Bound.
Insomnia does things to a girl's head, drives her to perform acts she would have scoffed at if not for a bad case of desperation. Yoga. Meditation. Getting in touch with her inner Lune via witchy rituals she doesn't even realize she's enacting until she's naked in the dark with an aggressive dragon…or two.
Cora Phillips has spent her life denying the Lune tradition but with two dragons–and their masters–hounding her with mating claims, her denying days have come to an end. Like it or not, the dragons have come.
And she doesn't like it one bit.
Get Dragon Call (Lunes & Lords Book 1) by Emi Davis at Amazon
Have you read this book or another by this author? Tell us about it in the comments!