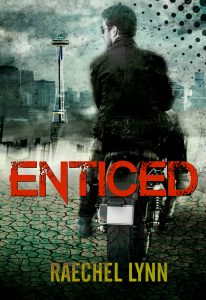 Steam Level: Steam Level 5
Category: Erotic Romance
About Enticed:
Eleanor Cavanaugh is a young woman sent out by her family into the brutal streets of post Paranormal War New Seattle. Vampires and other paranormal types have declared war against the government, demanding freedom to exist in the open. She is on a mission for The Faction, to kill a suspected vampire known only as Magnus. When she finds him in a seedy underground bar she is overwhelmed by her sexual desire for him. After a brief sexual encounter in the bar, he takes her to his lavish home where he ravages her, taking her virginity.
Magnus has many dark desires, and is planning on bringing Eleanor fully into his sexual BDSM world, without ever telling her he is a vampire. When she leaves in the morning without saying goodbye he knows he will see her again. The next night at the bar he is there when she comes to find him. He teaches her a lesson in the back of his car, spanking her while she deep throats him, but he can't control his desire and knows that she sees his true vampiric nature. He leaves her after using compulsion to make her forget him, knowing he will regret never seeing her again.
Purchase Print Books
Buy Enticed Print Edition at Amazon
Links to Purchase eBooks
Link To Buy Enticed On Amazon

Disclaimer: All information for this book was submitted by the author and is presented as is so you get to know the author and their style. Prices are subject to change.