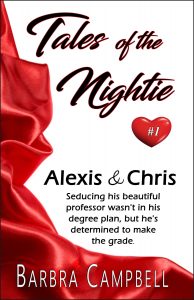 Steam Level: (Ranked from 1 to 5, as noted by the author): Steam Level 4
A super steamy novella that gives a glimpse into the lives of Alexis and Chris:
Chris knows he should be more concerned about graduation than seducing his beautiful professor, but he can't resist the forbidden relationship.
Dr. Alexis Welsh, Assistant Professor of Criminalistics, has focused on establishing her career since high school. She's done everything she's been expected to do and earned the respect of her family and colleagues, but shouldn't there be more to life than just work? Then, just before Valentine's Day, a series of mysterious gifts with encrypted messages leads to the enticing possibility of a secret admirer.
For four long years, senior student Chris Locke has hidden his feelings for the smart and sexy professor. His time in the Air Force taught him discipline, but now that he's just a few months away from college graduation, he's ready to take a chance on making his feelings known. Will his advance be reciprocated once Alexis unravels the clues?
With Chris heading to California after graduation, are a few months of being together worth the risk? As professor and student, their relationship is forbidden, but once they share a kiss, can they deny their rising passions? Alexis has always let someone else direct her life. She's followed all the rules. Maybe the time has come to start breaking them…
Get Alexis and Chris (Tales of the Nightie novella #1) at Amazon
Have you read this book or another by this author? Tell us about it in the comments!
All information in this post was provided by the author and is not altered. We do this so that you the reader can decide to buy a book based on what the author says and how they present themselves and their book.