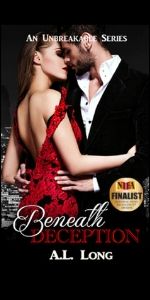 Steam Level: (Ranked from 1 to 5, as noted by the author): Steam Level 4
Award Winning Author of the Shattered Innocence Trilogy
Everyone has a story and for Xavier London, he preferred to keep his hidden. As ruthless as he was, he still had morals and those morals included betraying the one man who saved his life. He never thought that meeting one woman could change everything.
Tessa Sands never knew the truth about her life, nor did she ever question it. The only life she knew was the one she was taught, disciplined by the man who raised and groomed her to be only his. But, when another man entered her life, she slowly begins to discover that she had been deceived from the start.
Can she find true love or will his secrets get in the way?
Their love for each other will be tested. Only they can determine if love will win.
Get Beneath Deception at Amazon
Have you read this book or another by this author? Tell us about it in the comments!
All information in this post was provided by the author and is not altered. We do this so that you the reader can decide to buy a book based on what the author says and how they present themselves and their book.