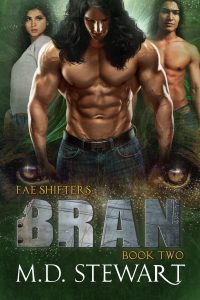 Steam Level: (Ranked from 1 to 5, as noted by the author): Steam Level 5
Josie Davis runs the Hogg Trough, a biker bar she inherited after her dad was sent to prison seven years ago for something he didn't do, killing her mother. Josie is struggling to get past the loss of her parents when a gorgeous man walks into her bar. She is surprised at her strong reaction to Bran but used to guarding her heart, she won't trust him enough to act on her attraction.
Bran St. Clair, King of the Fae, is drawn to a bar on the edge of a rural town, knowing the owner, Josie is his true mate. He needs to claim her, but his job is to search for outlaw Fae who escaped to the Earth Plane. His overwhelming need for Josie leads the murderous Fae traitor to her doorstep. There's one man on Earth he trusts to help him; Michael Mato, the Chief and Lead Elder of the bear shifters and the only man Bran has ever loved.
When Bran needs his help to protect Josie, Michael is instantly drawn to her. After surviving the loss of his wife decades before, he's overcome with his love for Bran, the need to guard Josie and his obligation of leading his tribe.
Will evil and old secrets tear them apart or draw them together?
This story contains unrequited love, two hot alpha-males, and true MMF love. There is no cheating, cliffhangers, and a HEA for the characters.
Trigger warning, there is a scene at the end of the book containing implied torture and sadomasochism.
Get Bran, Fae Shifters Book Two at Amazon
Have you read this book or another by this author? Tell us about it in the comments!
All information in this post was provided by the author and is not altered. We do this so that you the reader can decide to buy a book based on what the author says and how they present themselves and their book.