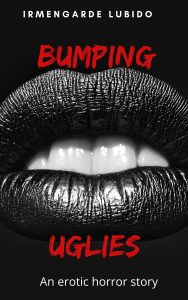 Steam Level: (Ranked from 1 to 5, as noted by the author): Steam Level 5
New release from Irmengarde Lubido– the newest voice in erotic horror.
Beautiful Delilah likes hot guys: washboard abs, chiseled features, model-good looks—and she scorns any dude who doesn't meet her high standards. Sick of her shallow and snobbish ways, they pay for a unique escort service—"Bumping Uglies"– to service Delilah, hoping to help her realize that ugly men can be great lovers, too. But in spite of an intensely satisfying (if expensive) night with one of the ugliest men she's ever seen, Delilah is furious. As payback, Delilah is determined to find an Ugly who will do her sexual bidding when she wants– to prove to her friends that she's not shallow—and that pretty women never pay for sex. But as Delilah soon discovers, her ugly ways have a steep cost. Beauty, is, after all, only skin deep.
A dark, erotic fairytale, BUMPING UGLIES is the literary intersection of BLACK MIRROR and SILK STOCKINGS.
Have you read this book or another by this author? Tell us about it in the comments!
All information in this post was provided by the author and is not altered. We do this so that you the reader can decide to buy a book based on what the author says and how they present themselves and their book.