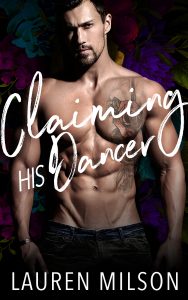 Steam Level: (Ranked from 1 to 5, as noted by the author): Steam Level 4
The first night, the hot older man at my work party had my body pinned to his. The second, his pet names were driving me wild. And the third…I knew I wanted him to be my first.
Alessandra
It all started with a prank.
I broke into my older, hot new dance instructor's office.
He caught me. Told me I didn't belong in there.
Kicked me out, but not before I got a good taste of just how irresistible he is.
He's big, hot, and those green eyes make me melt.
But I'm too inexperienced for him.
Plus, all the rules say we can't be together.
Right?
Theodore
The first time I saw her dance, I knew I wanted her.
The first time our eyes locked, I knew I was done for.
She is off-limits, too young, too innocent for me.
I am disciplined. Controlled.
But I lose all control around her.
She is trouble.
She is bad.
And she is mine.
You know you want it. An insta-love thrill-ride with a little bit of humor, a lot of heart, and a TON of steam. Enjoy!
xx, Lauren

Get Claiming His Dancer (An Older Man Younger Woman Romance) at Amazon
Have you read this book or another by this author? Tell us about it in the comments!
All information in this post was provided by the author and is not altered. We do this so that you the reader can decide to buy a book based on what the author says and how they present themselves and their book.