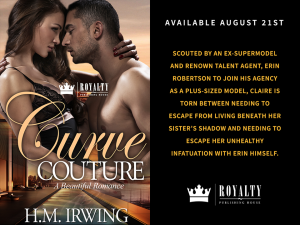 Steam/Violence Level: (Ranked from 1 to 5, as noted by the author): Steam Level 4
$0.99 for your sexy, steamy, fun-filled weekend read!
Romance and laughter rules! Curvaceous Claire Williams is more than just a bundle of melons squeezed awkwardly within an inappropriate dress. She is the new face for top model. And the sexy Adonis God among men, Erin Robertson is the ex-supermodel-who- ruled-the- catwalk-turned agent, to make it all happen. Can Claire control her infatuation for the stud long enough to establish a life long dream of walking the runway as if she owned it? Or is it all bound to come tumbling down around her ears on the essence of one smoldering smirk from the irresistible Erin Robertson?
Have you read this book or another by this author? Tell us about it in the comments!
All information in this post was provided by the author and is not altered. We do this so that you the reader can decide to buy a book based on what the author says and how they present themselves and their book.