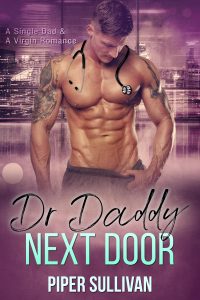 Steam/Violence Level: (Ranked from 1 to 5, as noted by the author): Steam Level 4
I want to slide my hand up those sexy little dresses she wears and see what's underneath…

But I can't because my little girl has fallen in love with Rory. 
And because she's my neighbor. 
I've already been burned once and I can't afford to let my life go off the rails even if she does look like she'd be worth the fiery crash. One night I let things go too far and there's no turning back because now that I've had her, I crave her.

I need her.


I want to run my fingers through his hair and see if his mouth tastes as good as it looks…

But I won't because Dr. Kane Royal looks like a high-class guy who dates high class women. Not a girl like me who's had to fight for everything I ever got. He's a wealthy doctor from a prominent political family, a father, and I'm a struggling student, a girl from nowhere. A virgin.
I don't have anything to offer him but I want him. I dream about him touching me, tasting me, tempting me to wish for more.

But a girl like me doesn't get the guy…does she?

Get Dr. Daddy Next Door at Amazon
Have you read this book or another by this author? Tell us about it in the comments!
All information in this post was provided by the author and is not altered. We do this so that you the reader can decide to buy a book based on what the author says and how they present themselves and their book.