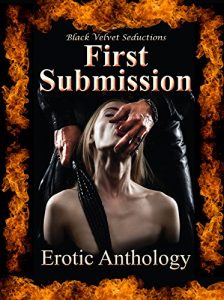 Steam/Violence Level: (Ranked from 1 to 5, as noted by the author): Steam Level 5
We all remember our firsts in life; first kiss, first love, first sexual experience. Black Velvet Seductions presents First Submission.
Stories from eleven fabulous and best-selling authors. Straight, gay, BDSM, domestic discipline, age play and multiple partners- this is a red hot read that promises to thrill and tantalize!
If you've never thought about reading some more "adventurous" sexy tales this might change your mind. If you already are a fan of nothing-is-off-limits erotica, then you'll love this book. From the more "vanilla" and "sweet" to "sex so hot it will set your Kindle on fire," First Submission has it all.
Get First Submission at Amazon
Have you read this book or another by this author? Tell us about it in the comments!
All information in this post was provided by the author and is not altered. We do this so that you the reader can decide to buy a book based on what the author says and how they present themselves and their book.