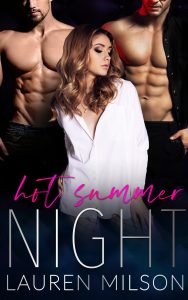 Steam Level: (Ranked from 1 to 5, as noted by the author): Steam Level 5
Have you ever been to an "End of the World" party? I have. All I wanted was a little bit of fun…
My college is shutting down because the president was doing some shady a.f. stuff with the school's money. My classmates think this is the perfect time to throw a crazy party. This is our last night here at the dorms, so why not?
But I don't want to go wild. Not without the two men who promised my dad they'd take care of me.
Xavier — the flirt, the devil with the impish smile, the golden tongue.
And Noah. A beautiful, rough angel of a man who's eyes make me melt on the spot.
I always thought they saw me as nothing more than their friend's daughter.
But when things get a little too wild and crazy on campus?
That's when my men say they're going to claim what's been theirs all along…
Two obsessed older cops and one inexperienced college gal. Put them all together for one hot summer night. No MM in this one — the guys' attention is totally on her.
This book is part of the "Night" series, but each is a complete standalone and they can be read in any order.
Enjoy!
xx, Lauren
Get Hot Summer Night at Amazon
Have you read this book or another by this author? Tell us about it in the comments!
All information in this post was provided by the author and is not altered. We do this so that you the reader can decide to buy a book based on what the author says and how they present themselves and their book.